For clubs and organizers this page describes a number of items in your event setup that will go a long way toward making your contests run better.
Scoring System

Without question the scoring program that is used most often in worldwide F5J competitions is GliderScore, a donation-based program for Windows laptops (and Macs running Win emulators).
GliderScore has quite literally become the standard when it comes to F5J because it not only manages pilot draws (groups), event scoring, and results printouts but it also is a full blown contest automation engine. With GliderScore you get automated round timing and pilot name audio announcements along with direct control of an LED timing display. GliderScore also supports a powerful smartphone scoring (eScoring) feature that enables pilots to enter scores using their smartphones or community tablets / laptop computers. And finally the program supports Online Scores: the ability to publish your round-by-round scores in real time while your contest is running. This enables anyone with a PC, tablet, or smartphone anywhere in the world to view contest standings and pilot details.
We heartily recommend that you use GliderScore. It is feature-rich and very well supported. When you start using it don't forget to make a donation so the program updates keep coming.
How to add a woody/foamy class to your F5J event
If your club would like to include woodies, foamies, and other lower cost planes in your F5J USA Tour events you are in luck: this is allowed and is a great way to build your pilot base for F5J. For a tutorial click here:
Wireless Audio and LED Displays
Because F5J flight rounds must be flown inside the same working time for all pilots it is necessary to have some kind of audio distribution system. It is also very helpful to have an LED timer display that pilots and timers can view during both prep and working time intervals.
The East Valley Electric Flyers (Phoenix) were the first USA club to run regular F5J contests. One of their members Lee Wolfe has developed a very powerful contest system that other clubs are now wanting to copy. Lee has shared some details via an RC Groups post (link) which is reproduced here with his permission:
Wireless F5J / ALES Sound Setup
by RotorCycle, Dec 12 2016 (article updated by Lee Dec 15 2016)

We use FM broadcasts to support our monthly ALES and F5J events. The first thing you'll need is an FM modulator box which simply converts the PC audio out to modulated FM on the station of your choice. eBay has many of these in the $60-$80 range, but start with something ~7-watts or higher.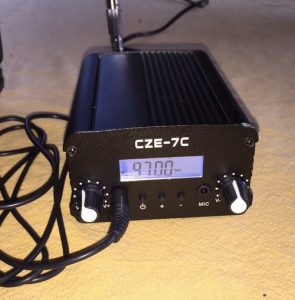 Using a dipole antenna like the one pictured, it's possible to broadcast coverage for any size field you will ever encounter. There are many plans for building dipoles on the web, or you can order a pre-constructed dipole on eBay. Use a pole or PVC pipe to raise the antenna for better field coverage. We use two joined PVC sections for easier break-down.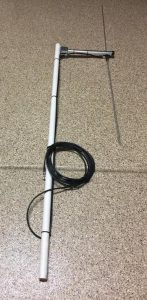 For radios we use the RIGID X4 work radios with 3000mAh LiPo batteries, which will run the radios 3-4 days. These too can be purchased on eBay. Remove the RIGID battery connector and solder on the LiPo connector of your choice. The radios are placed one per lane, but the sound volume and quality are good enough to have one radio between every two lanes.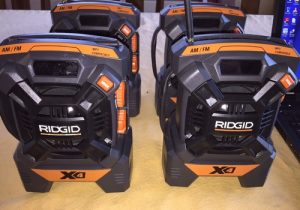 As for the LED clock, this can be built for under $400 using the module from Embedded-Ability. Their GliderScore Display Interface board connects straight to the output of GliderScore via a USB-to-Serial adapter and keeps the clock synchronized with the audio files. Chris has created a manual using the experiences from both of our LED clock building projects, and you will find both the build instructions and parts needed to build this clock.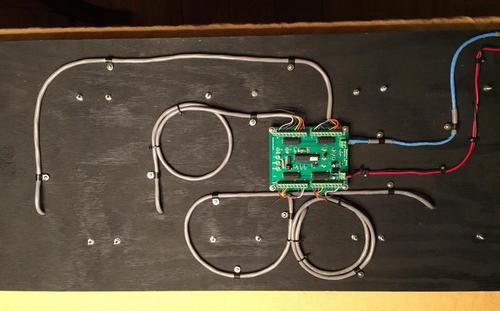 I've attached a picture [below] of the clock in direct sunlight, and it's easily visible from 250-meters. The picture is from before I added a red colored acrylic cover, which further enhanced contrast.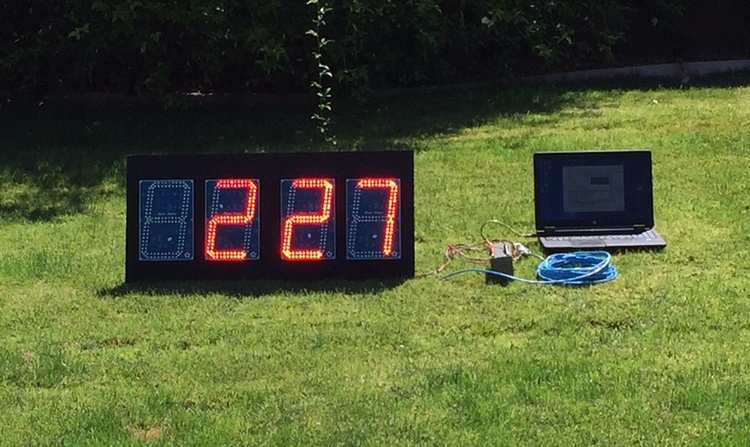 We feel the LED clock is an absolute necessary part of our events, and pilot feedback has been the same. Flyers grow to rely on the clock and we will include this clock as well as future wireless clocks at every event.
During prep time as flyers are standing in the safety corridor they glance at the clock to see the time remaining time before launch. We're constantly using the clock in the pits to see how many seconds until launch before running out to the pin.
While the sound files announce remaining time every minute in addition to a 30-second countdown, pilots and timers are looking at the clock during the last 2-3 minutes to plan their decent and approach. Having the LED clock means timers don't need a window clock and a flight-time clock.
Thanks, Lee! If you are interested in building your own LED display you can see another "How-to" article along with a demo video by the GliderScore program author Gerry Carter.
We will add more event and field setup tips and links as they come in.