After months of development and testing, GliderScore v6.52 is available with eScoring support. This enables scores entry via smartphones and computer tablets. This system not only works for F5J contests but also TD, ALES, F3J and many other formats. It is a major step forward in contest scoring and a huge timesaver for CDs and scorekeepers. Program author Gerry Carter has done an incredible job making the system as easy to use as possible.
How it works
After you have created a new contest in Gliderscore you enable smartphone scoring by clicking a button that uploads your contest configuration to the Gliderscore server.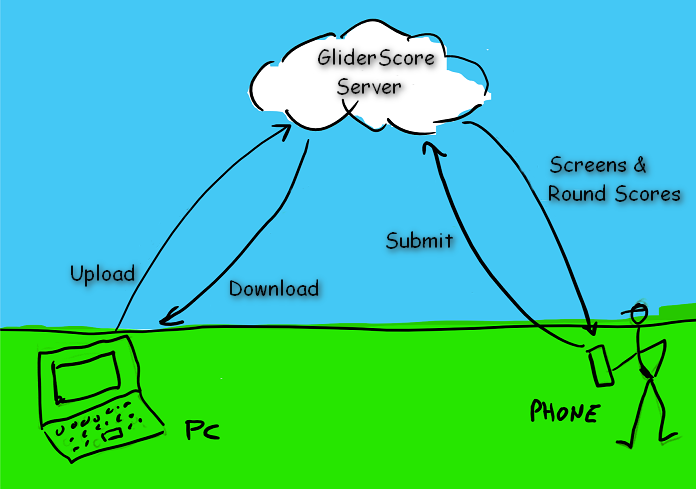 Then you hand out Scoring Record cards to each pilot; this is where the pilot writes down his scores for his personal record. At the top of each of these cards is a QR Code. You scan this code once, at the beginning of the day, to open your own (or someone else's) personalized scoring web page.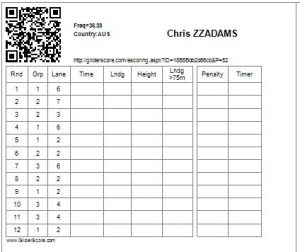 After each flight you whip out your smartphone, tap the button for the round just flown and your scoring entry screen pops up. When you are done tapping in your score you Submit it (score is saved on the GliderScore server). From there you can quickly scan any other pilot's card (once for the day) and enter their scores. Because it's so easy even guys without smartphones can still have their scores entered quickly this way.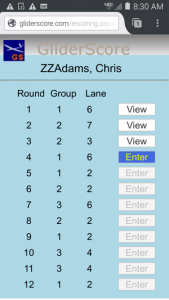 The CD/scorekeeper periodically downloads the scores from the GliderScore server. This enables him to see who has not yet entered their scores so he can give reminders if necessary. After every round is completed and the CD is satisfied with the scores, they are then uploaded to the GliderScore server. From there any pilot can view the intermediate contest standings on their phones. How cool is that?
Certainly any club at least doing F5j should be using GliderScore. And the larger the contest the more you will realize the benefit of GliderScore's contest automation and eScoring capabilities. Highly recommended!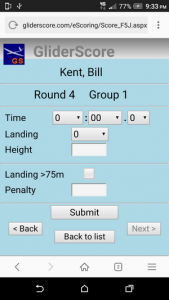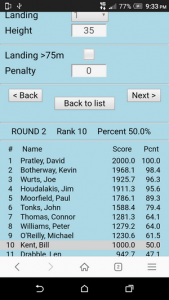 Free online GliderScore training
For any clubs that would like to use GliderScore + smartphone scoring I am willing to conduct an online training session for your contest team. Use the Contact form and send me a message if you're interested.