This information page is provided for clubs that are participating in the F5J Monthly Club Series when they are using GliderScore to run their F5J contests. The steps on this page will show you how to upload your F5J monthly contests into the Club Series.
Note that "CSV" stands for comma separated values which identifies a generic format that your GliderScore contest files will be exported to in preparation for importing your contest into f3xVault.com.
Step 1: Save your GliderScore contest to a CSV file
If your club contest was a single set of rounds (i.e. no fly-offs) then you will be creating a single CSV file. If your club contest included fly-offs then you will also be creating a second CSV file.
Open your contest in GliderScore, then click "Reports." We will be using the "Flight Scores" report.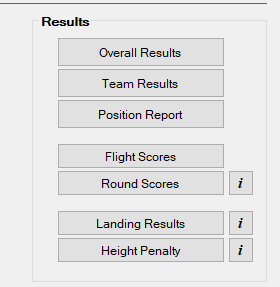 Click on the Flight Scores report to view the report options: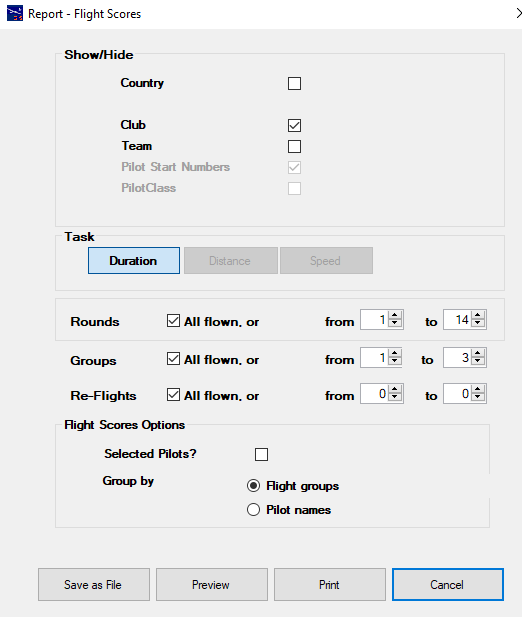 In the Show/Hide box check "Clubs"
Check "all flown" for Rounds, Groups, and Reflights
Under "Flight Score Options" select Group by "Flight groups"
Then click "Save as File" and save it to your computer drive using the default filename that GliderScore assigns to it.
That will give you a .CSV file that you can upload and import into the f3xVault Club Series as described in the next section.
Step 2: Import the CSV file(s) to the Club Series on f3xVault.com
With this step please also share your CD's name and the contest location so we can add that to your contest on f3xVault. Next you will either:
(a) post your Flight Scores csv file(s) to the RC Groups Club Series thread along with your contest comments and pics, or
(b) email them direct to Chris: 

We will then do the importing and add your contest to the Series. After we have run the Club Series for awhile we will update this page with how to import GliderScore F5J contests yourselves.
Good F5J contesting to you!
Page last updated: 1-19-2022