The F5J USA Tour is a recognition and awards program that consolidates season scores for pilots that participate in one or more qualifying F5J contest events. Pilot rankings will be web-published throughout the season and awards will be given at the end of the contest season. The year-end results will be promoted in the RC soaring community with the goal of increasing F5J awareness.

The purpose of the F5J USA Tour program is:

To establish a competitive series of regional F5J contests
To provide a promotional platform that enables F5J contest growth in the USA
To provide an F5J contest series suitable for preparation to compete in F5J World Championship events

Registering your F5J event — Clubs and contest groups wanting to host an event can submit an online application:

The deadline for registering your events for the current season is August 15. Registration for the next season will open on Nov 1.

Pilot Standings — Pilot standings for the Tour can be viewed here:

Tour Apparel — A variety of Tour shirts and accessories are available here:

Tour Newsletter Archive — Feel free to browse past newsletter issues:

RC Groups — An active thread is available for Tour announcements, contest info, and general Tour discussion:

2022 Season
2021 Season
2020 Season — 2019 Season
2018 Season — 2017 Season

Celebrating 5 Years!


Organization

The F5J USA Tour Advisory Group is responsible for managing the Tour. It includes the following key supporters and pioneers of USA-based F5J:

Chris Bajorek, Chairman
Lee Wolfe
Steve Neu
Lenny Keer
Larry Jolly
Jim Monaco
David Beach

Thanks to our volunteers for helping to make F5J happen.

For a financial declaration statement regarding the Tour's collection and use of fees please click here.
Tour Rules and Guidelines
Copyright Notice.  Unless express written permissions are granted by the F5J USA Tour ("Tour") no Tour event scores or direct or derived Tour scoring data may be displayed on Internet-accessible web pages or databases with the following exceptions: (a) GliderScore.com and f3xVault.com, (b) the hosting club's/organization's own website(s), and (c) the hosting club's/organization's own Tour event information thread(s) e.g. RC Groups, Facebook, etc. All other web publishing of Tour event contest scores, and derived data, is expressly prohibited.  Copyright © 2017-2022 — F5J USA Tour — All rights reserved.
Qualifying Events
Contest Rules
Pilot Standings Scoring
CD Guidelines
Event Rules & Processes
FAI F5J Altimeters
The F5J USA Tour reserves the right to update its rules and guidelines without notice.
Awards
In addition to the posting of pilot standings there will also be award "hardware" given to the top 10 season finishers. These awards are either handed out at the first event of the Tour season in early December in Arizona or they will be mailed out. Note that individual contest event awards are still handled by the local clubs.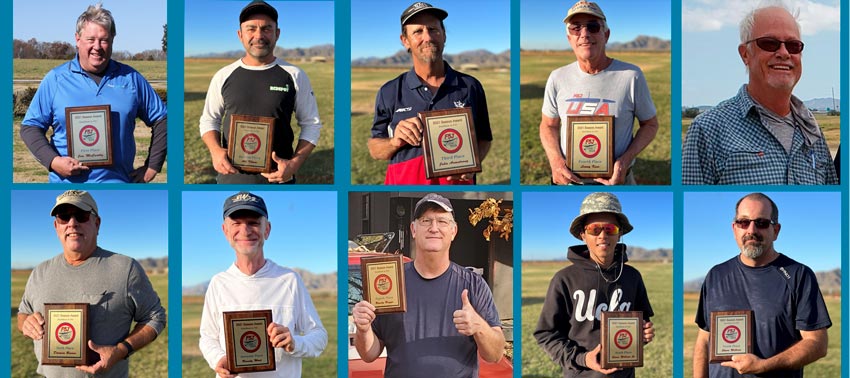 Q&A
Q: Why should I register my club's F5J contest with the F5J USA Tour?
A:  Because being on the Tour will probably encourage more pilots to travel to your event.
Q: Are there any fees to clubs or pilots?
A: Yes, for clubs. When you submit your F5J Tour event scores, for every pilot that has flown the minimum number of rounds you are also asked to include a $4.00/pilot fee (a Paypal link will be provided to CDs). This fee will be used to purchase end-of-season awards, other related expenses, and an annual contribution to the USA F5J World Championship team.